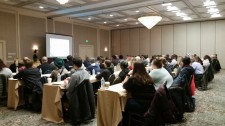 HempStaff to train cannabis industry employees and industry hopefuls on state-specific regulations and cannabis medicine
ROMULUS, Mich., September 6, 2018 (Newswire.com) - HempStaff, a national cannabis recruiting and training agency, is pleased to announce that it will host Medical Marihuana Provisioning Center Training courses in Detroit on Saturday, Sept. 15, at the Hilton Garden Inn Detroit Metro Airport. There will be two separate training sessions, the first from 8:00 a.m. to 12:00 p.m. ET and the second from 1:30 p.m. to 5:30 p.m. ET. The course costs $249 with prior online registration, or $300, cash only, at the door.
"Michigan has implemented new regulations to further legitimize its medical cannabis program. Some of these new regulations can be confusing. The Michigan Medical Marihuana program now spells marijuana with an 'h.' Additionally, the word 'dispensaries' is no longer allowed to be used; they must now be referred to as Provisioning Centers. These are just a couple of the new broader regulation changes," said James Yagielo, co-founder and CEO of HempStaff. "The older existing shops must be closed by Sept. 15 and new licenses have started to be issued. The goal is to clean up the gray market stigma that has surrounded Michigan's medical cannabis market for years, so it is imperative that owners and employees understand and follow these new regulations."
In November, adult-use cannabis will be included on Michigan ballots. While the class focuses on the current medical program, it will be useful for those looking to work in the recreational market as well.
"Even in the recreational cannabis market, the majority of consumers are using products for medical relief from ailments such as pain, anxiety, or sleep disorders," said Yagielo. "The provisioning center employee needs to know which cannabis product will give their patient the desired results. If they succeed, the customer will return. If they don't, the customer will go elsewhere next time."
In addition to Michigan's cannabis regulations, the course topics include:
The top cannabinoids and terpenes in cannabis and how they interact with the body medicinally
The top cannabis products (topicals, patches, oils, inhalers, etc.)
How to determine and recommend dosage
Cannabis's effect on the endo-cannabinoid system
How to recommend the best cannabis product to alleviate/reduce symptoms of illness
Communicating with new medical patients to understand their individual needs
Managing point of sale and inventory systems
The 4-hour course culminates in a certification exam that students must score 75% or higher on to receive a HempStaff Certification. In addition to education, HempStaff offers recruitment assistance to students, which includes a cannabis resume review and tips on how to make connections with employers looking to fill entry-level positions at dispensaries and cultivation sites. All HempStaff students are notified when the company receives job openings in their area.
In addition to Michigan, future HempStaff training classes are scheduled for Maryland, Oklahoma, Arkansas, Ohio, Pennsylvania, New Jersey, Illinois, Massachusetts and Florida.
For more information or to the register for a course, visit www.hempstaff.com.
###
About HempStaff
HempStaff is a marihuana industry recruiting and training agency specializing in finding management level employees, such as master growers, extractors or dispensary managers, as well as recruiting for a new company's entire staff. The company is also the industry leader in Dispensary Agent Training.
Source: HempStaff