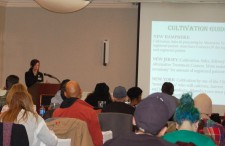 This 4-hour professional training course will be held this Saturday, Sept. 9, in the Baltimore area.
BALTIMORE, September 5, 2017 (Newswire.com) - HempStaff, a medical marijuana staffing and training agency will be back in Maryland for their seventh time, hosting Medical Marijuana Dispensary Agent Training Classes in Maryland. There are two sessions to choose from at each location: 8:00am-12:00pm or 1:30 p.m. - 5:30 p.m.
The Baltimore event will be held on Saturday, Sept. 9 at the Doubletree Baltimore Airport 890 Elkridge Landing Road, Linthicum Heights, MD 21090.
The cost is $249 with prior online registration or $300 cash at the door, if seats are still available.
The first Medical Marijuana plants have started growing in Maryland and dispensaries are expected to be selling product in very early 2018. Staffing will be needed in Maryland as 13 additional cultivation centers are scheduled to start growing soon and more dispensaries are expected to open right around the start of the new year.
HempStaff's four-hour course is designed to prepare participants for work in a medical marijuana dispensary so that business owners are getting educated and well-prepared candidates when they start to fill new positions.
The course educates the participants on cannabis and cannabis products along with all the information to keep up-to-date with Maryland's medical marijuana laws. HempStaff offers its students a resume review to help best prepare them for seeking employment in this course as well. The end of the course offers a certification exam, that the student must score at least 75 percent to get a HempStaff Dispensary Agent Certification. Since HempStaff is also a recruiting agency, when employers seek to fill entry level dispensary agents or cultivation site workers, students are contacted first.
HempStaff has trained and certified almost 3,000 dispensary agents nationwide and continues to hold classes across the United States. In addition to the class held in Maryland, classes are currently scheduled for Arkansas, Pennsylvania, Florida, Ohio, Illinois and New England. Future 2018 classes are slated for New York, New Jersey, Michigan and California.
Those who have already taken the HempStaff course have provided exceptional feedback about the training. "I was just so happy to finally learn something about the medical uses and confirm my limited knowledge (and provide much more knowledge)," notes one recent participant. "Thank you so much for the professionalism each presenter and other staff displayed. You are the ones who can help fan the flames of legitimacy in this field so thank you!"
Additionally, for those Maryland Cannabis Business Owners, the HempStaff team of recruiters are on hand to help new businesses with all their staffing needs with just one phone call. To learn more about the HempStaff, the upcoming Maryland training or to purchase a seat, visit HempStaff.com.
About HempStaff
HempStaff is a marijuana industry recruiting, staffing and training agency specializing in finding management in the industry leader in Marijuana Industry Recruiting and Dispensary Agent Training. For more information, visit HempStaff.com.
Source: HempStaff, LLC