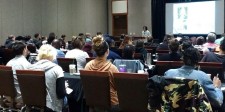 Leading cannabis dispensary training company returns to North Little Rock this weekend to prepare hopefuls for careers in medical cannabis
NORTH LITTLE ROCK, Ark., October 9, 2018 (Newswire.com) - HempStaff, cannabis recruiters and dispensary training agency for the legal marijuana industry, is pleased to announce that it will be returning to North Little Rock, Arkansas, to host Medical Marijuana Dispensary Training courses this Saturday, October 13, at the Hilton Garden Inn North Little Rock. There will be two separate training sessions: the first from 8 a.m. to 12 p.m. CT and the second from 1:30 p.m. to 5:30 p.m. CT. The course costs $249 with prior online registration or $300 cash at the door if seats are available. You can purchase seats in advance on the HempStaff website: www.hempstaff.com.
"We are excited to return to Arkansas following the issuance of the state's first five cultivation licenses," said James Yagielo, CEO and founder of HempStaff. "Dispensary applications are currently being scored by a third party, and we expect to hear the dispensary license winners in the very near future. Once this is announced, we expect the program to move very quickly, with dispensary owners looking to hire most employees before the end of the year to prepare for sales in the first quarter of 2019. Standardization in cannabis training is important, especially in a program's infancy. First impressions are often lasting ones; HempStaff's mission is to ensure that the Arkansas medical marijuana patients are tended to by professional and highly knowledgeable staff."
In addition to Arkansas' cannabis regulations, the course topics include:
·         Communicating with new customers and medical patients to understand their individual needs
·         Managing point-of-sale and inventory systems
·         How to determine and recommend dosage
·         Cannabis' effect on the endocannabinoid system
·         Top couple dozen cannabis products on the market
·         Top dozen cannabinoids, what they are, what they do and what is their medical significance
·         Top dozen terpenes, what they are, what they do and what is their medical significance
·         How cannabinoids and terpenes can alleviate or reduce symptoms of illness
·         Cannabis resume template and resume review
The four-hour course culminates in a certification exam that students must score 75 percent or higher to get a HempStaff Dispensary Agent Certification. In addition to education, HempStaff offers cannabis recruitment assistance to students, which includes a list of licensed companies in Arkansas with tips on how to make connections with employers looking to fill entry-level positions at dispensaries and cultivation sites.
Future HempStaff training classes are scheduled for Massachusetts, Ohio, Oklahoma, Pennsylvania, New Jersey, Illinois, Maryland, Michigan, and Florida. For more information or to the register for a course, visit www.hempstaff.com.
About HempStaff
HempStaff has been a leader in the marijuana industry recruiting and dispensary training since 2014. HempStaff specializes in finding management-level employees, such as master growers, extractors or dispensary managers. The company also offers state-customized classroom style dispensary training courses, having certified over 6,000 students in 20 states to date. For more information, visit HempStaff.com.
Source: HempStaff